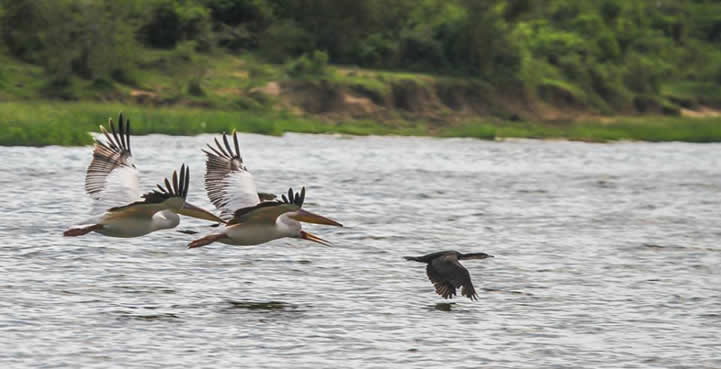 When one talks of a safari to Queen Elizabeth National Park, a tour to kazinga channel is a not miss. Stretching 40 kilometers long and 8 meters deep, kazinga channel is one of the key attractions in queen Elizabeth national park, which make QENP a popular tourism destination and a stop center for most travelers to Uganda. The channel is famous for connecting the two lakes of Edward in the west and George in the east which has helped most travelers to reach at the starting point of these lakes. The two lakes are served by Inlet Rivers from the Rwenzori Mountains and the outlet is kazinga channel, which keep the waters fresh all the time. More still, the channel is divided into two sections of north kazinga and the kasenyi plains. Kazinga channel is a center of attraction and activities in queen Elizabeth which among others include:
Boat cruising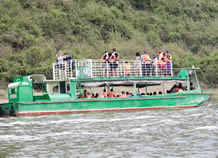 This is the most done activity at kazinga channel, which is done two times per day. The morning shift starts at 9:00am and the evening one at 2:00pm in the local time. The boat cruise lasts for an hour starting from the end of lake George to where lake Edward starts. at lake Gorge and ending at lake Edward. It surely feels fresh as you cruise over the waters with clear view of the entire national park, wildlife, bird life and the surrounding fishing villages.
Bird watching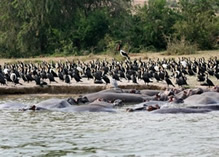 The shores of kazinga channel host the highest population if birds in Uganda. A number of birds are spotted while on the boats cruise and experienced birding guides help to explain the unique features of each bird that distinguish it from each other. Among the spotted birds include African skimmers, cormorants, Africa fish eagles, shoe bill stork, papyrus Genolek, African spoonbills, pelicans, terns, ducks, pied kingfishers, yellow-billed oxpecker, cattle egret, verreaux's eagle-owl, white-winged tern, marabou stork, malachite kingfisher, woodland kingfisher and great white egret. A great views of birds on the shores of kazinga channel is surely a memorable experience, they look beautiful and amazing.
Wildlife viewing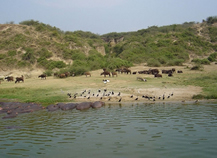 It's at kazinga channel that you will have a view of the highest concentration of wild life resting on the shores and in the waters. The banks of kazinga channel host's large schools of hippos, herds of buffalos, elephants, Antelopes, waterbucks, monitoring lizards, and crocodiles. These animals are seen on hot day drinking water as well as swimming in the cold water.
Scenic viewing
While on the waters, travelers view the entire national park and the neighboring fishing areas in queen Elizabeth national park. More still you will be exposed to different vegetation covers in the national park such as forest grasslands, acacia woodlands, lakeshores and swampy vegetation that favor the habitation of various wild and birdlife in Queen Elizabeth national park.
Besides kazinga channel, travelers also visit the Mweya peninsular.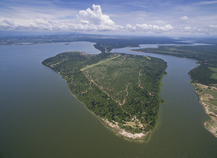 This is situated north of kazinga channel at a point where the channel converges into lake Edward. The QENP head quarters are also found at Mweya peninsular together with a channel trail that runs to the Katunguru main gate and the Kabatoro gate covered in chunky open vegetation. While at Mweya peninsular, travelers take guided nature walks and look over to the bay of lake Edward at Katwe providing them wit beautiful sceneries. Also, the peninsular has a souvenir shop that sells African wear, t-shirts, huts, bags and accessories which travelers buy for remembrance after returning home. The peninsular hosts the Mweya safari lodges a luxurious accommodation facility in queen Elizabeth national park hence providing travelers with excellent services.
Ishasha sector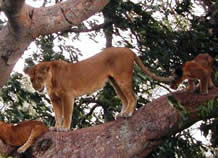 This is a hot spot for tree climbing lions in the southern sector of queen Elizabeth national park. A game drive to Ishasa sector provide an opportunity for travelers to see lions hiding, resting and chilling in the branches of fig trees.
Conclusively therefore, visit Queen Elizabeth national park and enjoy Uganda's memorable wildlife experience.
Social Share